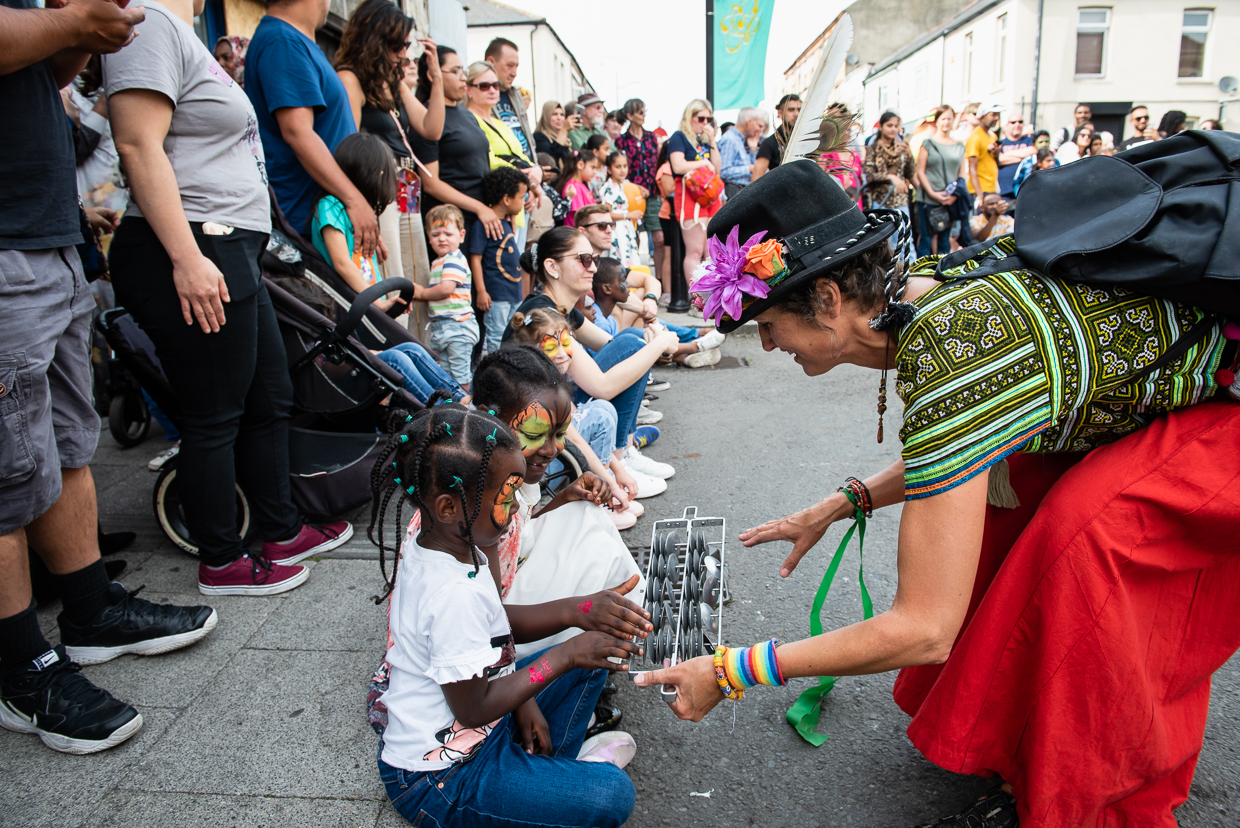 Investing in Creative Collaborations
Funded by Hodge Foundation and Moondance Foundation, CultureStep is designed to encourage new sponsorship and develop established business engagement with the arts.
Through CultureStep, A&B Cymru invests cash in innovative partnerships of all kinds between the two sectors, enhancing projects and increasing their long-term effectiveness.
Image: NoFit State Circus – Mark Robson Photographer
Partnering the arts can enable businesses to meet core objectives in creative and far-reaching ways and CultureStep aims to maximise the impact for all involved.
It is designed to help companies communicate directly with their target markets, engage effectively with the communities in which they operate and access focussed, tangible staff development opportunities.
The scheme provides businesses with a direct incentive to partner the arts. Specifically, to:
demonstrate Return on Investment, maximising profile and enabling an increased level of activity.
reduce the "risk" of embarking on new partnerships with the reassurance of A&B Cymru's approval.
ensure partnerships are monitored and evaluated to measure success against set objectives.
CultureStep investment must be used to strengthen and develop the relationship between the business and arts partners, through arts activity. 
All projects must also benefit individuals living in Wales and address at least one of the following priorities:
Arts & Diversity: working with the arts to promote and celebrate diversity and inclusion, engaging those who face barriers on the grounds of ethnicity, gender, physical abilities, race, religious or political beliefs and sexual orientation.
Arts & Employees: encouraging partnerships that integrate the arts into employee development and motivation, while stimulating a more creative working environment.
Arts & the Environment: encouraging partnerships that address the climate emergency, demonstrating a commitment to environmental best practice while having a positive impact on people and communities.
Arts & Health & Well-being: working with the arts to aid mental, emotional and / or physical well-being.
Arts & Kids: engaging socially disadvantaged and underrepresented young people with the arts, making a tangible difference to their lives.
Arts & Older People: engaging vulnerable, disadvantaged and isolated older people with the arts, making a positive difference to their lives.
Arts & Tackling Poverty: partnering the arts to improve the lives of people who do not have sufficient resources to provide an acceptable living standard which allows them to participate fully in society.
Arts & the Welsh Language: encouraging partnerships which celebrate and promote the language, maximising opportunities for people
Arts partners may apply for up to £1 from CultureStep for every £2 invested by the business partner.
If you have a potential project you would like to discuss, please contact A&B Cymru by filling in the contact form and someone will be in touch.
CultureStep decisions are taken by a panel chaired by A&B Cymru's Chief Executive. Members have a diverse range of skills and expertise and a thorough understanding of relevant issues. They also have an in-depth knowledge of A&B Cymru and a commitment to its work and strategy.
The panel consists of 8 voting members. The group meets quarterly and operates on the principle of collective responsibility. All members have an equal voice. The panel are:
Rachel Jones, Chief Executive, A&B Cymru (Chair)
Kathy Brown, Former Assistant Vice President, Community Investment, Barclays plc
Robert Lloyd Griffiths, Business Consultant
Denise Lord, Freelance Fundraiser
Samantha Maskrey, Chair, Darkley Trust
Nigel Petrie, Director, Petrie and Company
Lynne Sheehy, Former CSR Manager, Legal & General
Richard Tynen, Director, The Funding Centre
Deadline:  24 November 2023
Meeting date: 8 December 2023
Deadline:  1 March 2024
Meeting date: 15 March 2024
CultureStep News October 2023
This October, the CultureStep Panel met to deliberate the applications received for the third meeting of this financial year.
Three investments were confirmed, which will help to strengthen and sustain innovative partnerships between business and the arts. They are:
Canolfan Gerdd William Mathias (CGWM) & Pendine Park Care Organisation. An established supporter of CGWM, most recently the business sponsored the 2023 Wales International Harp Festival and commissioned music therapy sessions for residents at its Wrexham care home. CultureStep is extending the partnership by increasing the number of weekly sessions to 45.
NoFit State Circus (NFS) & Celsa Steel UK. Celsa donated steel to improve NFS' touring capability. The business also commissioned a performance as part of its 20th-anniversary celebrations. CultureStep is strengthening the new partnership by funding a freelance crew to process the steel.
Tanio & Linc Cymru Housing Association. Through an A&B Cymru Brokerage, Linc Cymru has commissioned Tanio to engage the local community in its What Once Stood The business wishes to explore and preserve the heritage and historical significance of two of its developments in Neath Port Talbot. CultureStep is supporting this new partnership by contributing towards artists and photography costs for community workshops at both sites.
To date this financial year, CultureStep has invested in 21 partnerships. The recipients confirmed at the previous Panels were:
Arts Connection & Wind 2
Canolfan Gerdd William Mathias & Les Harpes Camac
Cowbridge Music Festival & Richard H Powell & Partners & Tidy Translations
Engage Cymru & Wales & West Housing Association
Hijinx & Morgan Quarter & FOR Cardiff
Making Sense & RWE Renewals UK Swindon Limited
Menter Caerdydd Tafwyl & Cardiff & Vale College
Mewn Cymeriad / In Character & The National Library of Wales & Merched y Wawr
NoFit State Circus & Cardiff Community Housing Association
North Wales International Music Festival & Ty Architecture Cyf
OPRA Cymru & Magnox & Castell Howell Foods
Riverfront Theatre & Arts Centre & Newport Transport
Role Plays for Training & Cartrefi Conwy
Shelter Cymru & HSBC & IKEA
studioMADE Creative & RWE Renewals UK Swindon Limited
The Denbigh Workshop & RWE Renewals UK Swindon Limited
The Successors of the Mandingue & University of Wales Trinity Saint David
Vision Arts & Valero
Arts partners may apply for up to £1 from CultureStep for every £2 invested by the business partner. 
The next deadline is 24 November 2023. If you are interested in making an application, please get in touch at contactus@aandbcymru.org.uk
Contact Us
To get in touch please fill out the form below