A&B Cymru 2024 Awards Commission
Celebrating Creativity and Excellence in Partnership
The A&B Cymru Awards exist to encourage, acknowledge and celebrate exemplary partnerships between business and the arts across Wales.  A high quality and high-profile event, the 29th ceremony will take place in Cardiff in Summer 2024. A&B Cymru wishes to commission ten awards which will be presented to the category winners.
An all-inclusive fee of £3,000 + VAT will be paid for this commission. The fee will cover all design, making, packaging and transportation costs.
Proposals must be submitted in writing and incorporate drawing(s) of the award no later than Friday 1 December.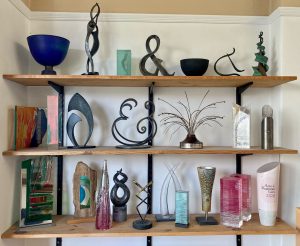 For the full brief please click here.
View our video of some of the previous A&B Cymru trophies below.