Blog 1: Laura Moulding, Royal Welsh College of Music & Drama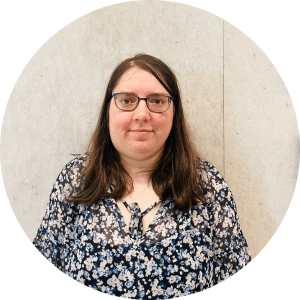 It's been weeks since I started my apprenticeship with the Royal Welsh College of Music & Drama; they say "time goes fast when you are having fun," and it's true.
In the time I've been here, I have been grateful to manage Microsoft Forms and Excel sheets, whilst undertaking lots of important training and meetings, and create tour guides/plans. I've attended events including an Open Workshop and Q+A for primary school children at the Norwegian Church in Cardiff Bay and a showing of the Royal Welsh College of Music & Drama's 'Playhouse Creatures.' I enjoyed seeing students' enthusiasm at the Workshop, and the 'Playhouse Creatures' show was amazing.
I also recently went to see the 'Voice Trio' perform some of Hildegard Von Bingen's 12th century music and the Sinfonia Cymru and Jess Gillam concert – Jess, in particular, is such an amazing saxophonist, and I was very fortunate to meet Jess Gillam at the end!
It has been nice meeting all the staff too. Normally I'm very anxious about meeting new people, but I can honestly say I've never felt more welcome. I look forward to working with them further over my apprenticeship.
I've also been assigned my business mentor, who is amazing and inspiring. I look forward to how they can assist me, and how I can develop as a person through this and my apprenticeship. I'm incredibly grateful to Arts & Business Cymru for accepting me, and to the College for allowing me to be part of their team.
Blog 1: Karema Ahmed, Theatr Iolo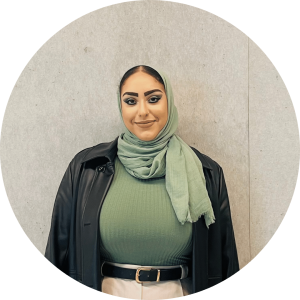 I have been working at Theatr Iolo as an apprentice for just over a month now and it's been amazing. So far it has been a wonderful experience, all the staff are talented, hardworking and have been so welcoming.
I kind of just went straight into everything which I feel is the best way to learn and I can ask questions as I go along. I joined when Theatr Iolo was in R&D for Welsh Dragon, which we put on a sharing on for. We have also been running free workshops for Welsh Dragon at schools, presented in English or Welsh which I am currently in charge of booking through. Theatr Iolo are currently in production for Peter Pan which is going well. I am helping with the access materials for Peter Pan and creating the Trigger Warnings and Storyboard for the show.
I am also in charge of a new project to find out information about electric charging points at different venues or where the closest one is, to understand a current picture of what options there are on the touring circuits throughout Wales to know whether it is possible to use an electric touring vehicle.
I attended my first board meeting which was beneficial as I got to know a lot more about the company and understand the aspirations they have for the future. I have really gotten an insight into how the company works and I can't wait to learn more!
Blog 1: Jo West, Urban Circle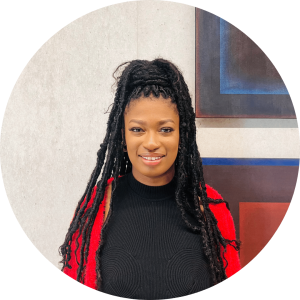 Now, where do I start? Well, firstly, I have to say this experience of transitioning from working at home to being in an office has been very enlightening. While working from home, I had my own hours and my own time, building my own structure. However, working with Urban Circle and having a dedicated workspace has provided a sense of freedom and structure I've never experienced before. When I first joined, Urban Circle welcomed me warmly, and their organization exudes a family vibe, which I love. Working alongside other black creatives has been something I've been seeking. I've often felt like a slight outsider, not fully relating to many people. It's refreshing to be around individuals from the same culture, who understand me and share the same lingo. Going to work has become an enjoyable experience.
From the start, I knew I wanted to delve into editing. Learning how to edit, put things together, and create content has given me a clear vision of my desired path within the industry. Urban Circle's environment offers a sense of peace, providing creative freedom with guidance. In terms of my own business development, I finally feel confident in the path I'm about to embark on in the next few years. The anticipation for what 2024 holds is genuine; my mind is buzzing with ideas and direction. The current journey I'm on now makes sense, fulfilling a quest I've been on for clarity. This was the primary reason I joined Arts & Business Cymru, and even though it hasn't been long in this apprenticeship, I'm already gaining so much. The excitement is real, and I look forward to sharing the developments I make over the next year.
Vlog 1: Idris Jones, Anthem
Blog 1: Karolina Birger, Hijinx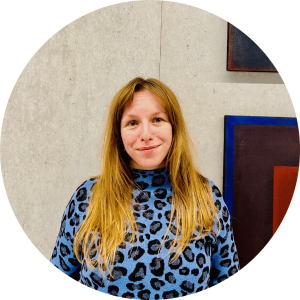 How thrilling my first month at Hijinx has been!
I've been spending the past few weeks getting to know the organization—learning about its past projects, mission, and goals for the upcoming months. I also had the opportunity to meet every staff member, from the production crew to the administration.
Last Monday, I attended the Hijinx's Academy session, where I got the chance to meet actors in person. They welcomed me with open arms and helped me settle in with their group.
During my second week with the organization, I attended the Housemate production, which Hijinx presented in collaboration with Sherman Theatre. The narrative of Housemate centres on Alan, a young person with Down syndrome who lives in an Ely hospital, and all he wants is to live in a house and be in a band. Based on a true story, the production is set in Cardiff in the 1970s. Several times while watching Housemates, I had tears in my eyes. The production demonstrates the great value of neurodiverse performers to the arts and their right to greater visibility in the field of performance art.
In the coming weeks, my main priorities will be working on trust and foundation applications, as well as, finding sponsors for the Unity Festival 2024 – the largest inclusive festival in Europe. Wish me luck!
Blog 1: Celeste Ingrams, SPAN ARTS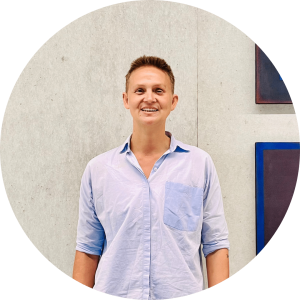 Just three weeks into my internship with SPAN Arts and it's been a really varied and rich time of learning. I've enjoyed meeting and spending time with each member of the team (7 in the team in total), learning the different workings of the organisation and how my role works alongside.
I've attended different meetings, getting to know the wider community, who SPAN work with. This week I attended three Privilege Cafe's we hosted at different locations across Pembrokeshire, which was inspiring and thought provoking. It was great to visit different venues and be involved with conversations in different parts of the county alongside the wonderful artist-facilitators.
I visited a Volunteers Fair at Pembrokeshire College, engaging college students in the work of SPAN Arts and chatting with other stall-holders getting to know other organisations locally.
It's given a bit of a taster into the variety of activity and areas of engagement for SPAN Arts which helps me understand the programme, projects and organisation further. I've felt really welcomed by everyone and feel very grateful for being made to feel at home so quickly.
This week I submitted my first funding application, which was nerve-wracking, but also really satisfying, learning from and supported by the team and getting to understand SPAN Art's way of working more.
Overall, it has been a fantastic start and introduction to the work, and I'm really looking forward to all that comes next
Blog 1: Call Ellis, National Youth Arts Wales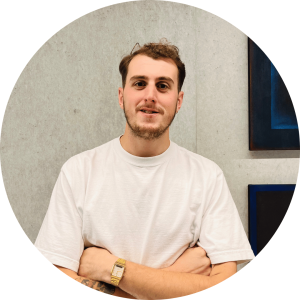 As I write this blog entry, I am coming to the end of my second week working as a creative fundraising intern at National Youth Arts Wales.
It's been a bit of whirlwind couple of weeks meeting the team and settling into the new office. Before I started, I had sort of prepared myself for it to be a bit mentally overwhelming but in all honesty, it's been really enjoyable. The team at NYAW are friendly and have a great work ethic that is infectious and inspiring. My work plan is set up now and my aims and objectives have been clearly established. I'm currently working on secure funding from trusts and foundations for a couple of NYAW brilliant contemporary music projects.
On the 11th I had the opportunity to attend Arts & Business Cymrus fundraising symposium. This was a really well organised event and provided some great information from a range of potential trusts and foundations.
I think the thing I'm enjoying most about working at NYAW is getting to see the work the charity does in providing some extremely talented Welsh young people with the opportunity to progress from grassroots to professional standard. It's a pleasure and privilege to be a part of that process.