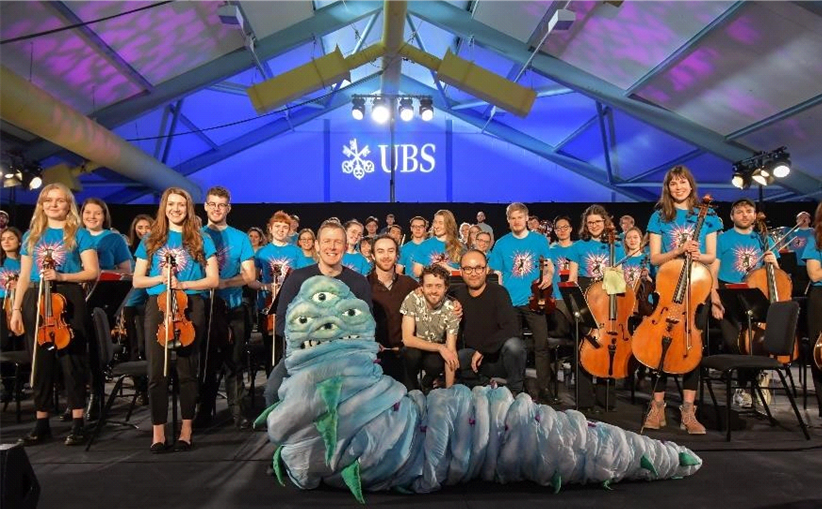 UBS Wealth Management & Royal Welsh College of Music & Drama
The Challenge
To promote a positive message about UBS to the local community.
To boost the profile of the UBS brand, with a particular focus on audiences in Mid Wales.
To fulfil global company objectives by helping to increase the educational attainment of young people.
The Solution
UBS made a significant contribution to the College's Connect Individual Giving programme, a match fund that helps to encourage philanthropic donations.
The investment levered additional support from A&B Cymru's CultureStep, which funded an interactive, live music concert for young people in mid Wales. The RWCMD Symphony Orchestra performed Orchestraadventure! at the Royal Welsh Show Ground in Builth Wells. The programme featured both classic and contemporary pieces and the event was enjoyed by 320 children aged 7 to 11 and their teachers.
The Results
Prior to Orchestraadventure!, UBS' work with RWCMD had been limited to South Wales and London. This project gave the business access to a new market, within which to acquire clients and boost its profile. UBS was able to invite local philanthropists, grant providers and business owners to the concert.
The event was very well received, enabling UBS to promote a positive message about its work to the local community. It was a rewarding and constructive experience for the musicians involved, and it also gave teachers valuable support in delivering the music curriculum. In this way, UBS supported young musicians to reach their full potential.
UBS and RWCMD are now exploring the possibility of a one-off fundraising event in Cardiff in 2021.
The Endorsement
One of the main benefits to UBS was brand exposure, and the company was recognised as the co-sponsor of the concert through brand acknowledgement and crediting in all project correspondence and positive media coverage. The partnership also provided an excellent opportunity for UBS to deepen its relationship with the College by supporting the education of students training at the College and [of] children from disadvantaged backgrounds in Wales. 

Matthew Marsden, Director, Wales, UBS Wealth Management

The partnership provided many benefits to the College and enabled us to up-scale our outreach work outside of Cardiff. For musicians training at the College, the project was a hugely rewarding experience and the performance received an enthusiastic response from the schools who attended. Learnings taken from the project have fed into the new outreach strategy, informing how we engage with schools and local authority music services in the future.

Marie Wood, Head of Revenue Fundraising, Royal Welsh College of Music & Drama