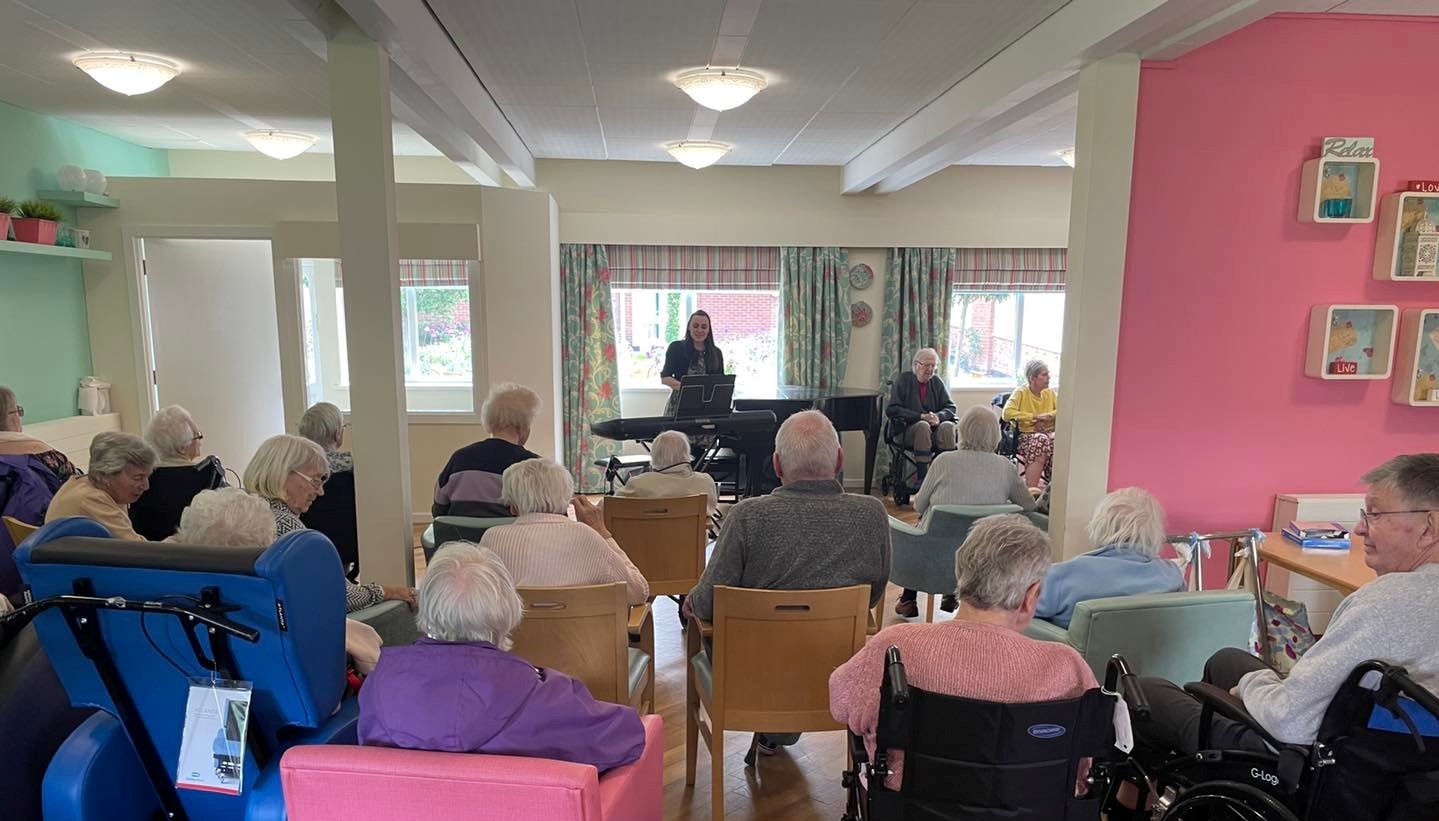 Pendine Park Care Organisation & Canolfan Gerdd William Mathias
The Challenge
To provide residents of Pendine Park with an enriching music experience.
To boost morale and wellbeing of residents and carers.
To highlight how music and the arts are integral to Pendine Park's care programme.
To support and enrich the lives of the wider community in North East Wales and engage with individuals and families who might use Pendine's care provision in the future.
The Solution
To deliver four face-to-face performances at Pendine Park's Wrexham sites and online performances to day-care provision Centres in the North East area.
The Results
CultureStep investment extended the relationship between CGWM and Pendine Park through funding four face to face piano workshop-concerts for the residents of their care homes in Wrexham and virtual concert-workshops on zoom for day-care Centres in the North East area.
In total the project reached 67 older people, some living with dementia, and adults with complex needs living in Pendine Park's care homes in Wrexham. Face to face concerts took place at Highfield Care Home & Hillbury House, and online concerts for Y Bont and Y Popty, day centres for adults who have learning disabilities in Denbighshire.
These concerts were delivered by two young professional pianists, Iwan Wyn Owen and Bethan Griffiths, CGWM's fantastic alumni students who now tutor at CGWM and also work as freelance performers.
The Endorsement
After the challenges of Covid, it was wonderful to be able to deliver face to face activities in the care homes once again and this opportunity was greatly appreciated by care home staff and residents and the freelance performers alike. The main benefit for CGWM has been an increased presence in the North East region and engaging with new members of the community and new partners. Developing a partnership with Pendine Park is incredibly valuable for us. The CultureStep project also enabled us to make sure that a wider area of Wales benefits from the activities of the Wales International Piano Festival, and to offer new opportunities to our team of freelance music tutors by arranging for them to perform in new settings and enabling them to develop as a tutor and a performer.
Meinir Llwyd Roberts, CGWM
It was a sheer delight to listen to the sound of a piano reverberating through the corridors again. Bethan is such a natural talent with a hypnotic way of playing. Whether it was classical or modern. she kept the audience mesmerised.
Hillbury manager, Cindy Clutton
The concert took me back to my younger years when I used to enjoy attending concerts as a girl. Bethan has such a natural gift, the way she played the piano was just entrancing. It has been a truly lovely afternoon.
Audrey Taylor, Hillbury resident
What a Wonderful World is one of my very favourite tunes and Bethan played it so magnificently. I just had to sing out loud. I was unstoppable. It was magical to be able to listen to a professional artist playing for us live again and to sing along with her.
Val Barnett, Hillbury resident