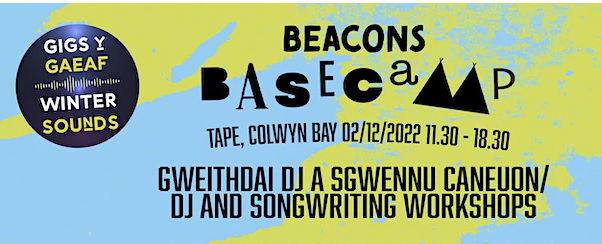 Penderyn Distillery & Creu Conwy, Conwy County Borough Council
The Challenge
Increase brand awareness
Strengthen cultural and community support links
To actively support the ambition of the Creu Conwy Cultural Strategy and the vision of Culture creating a spark for economic growth, wellbeing and connection.
The Solution
Penderyn sponsored the pilot of the Winter Sounds Festival, a grass roots music festival which was a flagship programme to launch the strategy. It aimed to engage, energise, and upskill the next generation of musicians, producers, and industry technicians, by bringing young people from socially disadvantaged backgrounds together through their love of music.
Although Penderyn is a well-established Welsh brand, it was relatively new to Llandudno. The partnership provided an ideal opportunity to support young creatives, promote brand awareness and strengthen local links.
CultureStep investment funded the mentoring element of the project.
The Results
35 young people aged 18-25 from disadvantaged backgrounds participated in the Beacons Basecamp Winter Sounds Mentoring Day and focus group activities. This included workshops with a focus on song writing, DJing and live sound, as well as music industry panels, a live performance by a Conwy based band, and networking opportunities.
The workshops helped participants gain new practical and creative skills, increase confidence and encouraged a sense of pride and belonging.
The project as a whole helped participants to move closer to further training and employment and has assisted in strengthening the creative and artistic ability and ambition of the next generation of Welsh artists.
The mentoring element also offered commissioned opportunities, resulting in a new collaboration between Beacons Cymru and Tape Community Music and Film, who hadn't worked in partnership previously.
980 bookings were made for the other Winter Sounds events and workshops and the social media reach via Conwyculture was over 39,000. There were also seven free to access events across the county, which created opportunities for artists and other industries, as well as supporting local venues. Additional 'fringe' activity promoted and showcased music events taking place in grassroots venues.
The Penderyn Distillery provided a spectacular backdrop for the filming of two live performances by talented local artists.
Gigs y Gaeaf /Winter Sounds, Conwy 2022 – YouTube
Winter Sounds x Beacons Cymru Basecamp @ TAPE (vimeo.com)
Rosa Lavenne Live at Penderyn as part of Winter Sounds https://vimeo.com/775103401/3ebc7326c8
M Yesakon live at Penderyn https://vimeo.com/775103479/6cc11fd3e3
The Endorsement
Penderyn has always supported various arts projects and this fits in perfectly with supporting young people from disadvantaged areas. They understand the impact that the arts can have on the communities. The partnership and links between Penderyn and CCBC were, and continue to be, mutually beneficial.  The Winter Sounds project provided both organisations the opportunity to build new relationships and reach new audiences.  The distillery provided a spectacular backdrop for performances from 2 talented local artists and over 30 young people benefited from the mentoring day.
Helen Goddard, Creu Conwy, Conwy County Borough Council.
Association and links to free to access, successful, cultural events and opportunities across Conwy strengthened the business' links, not just with Conwy County Borough Council, but the with cultural sector as a whole, as the Creu Conwy partnership is made up of key local and national cultural players including; the National Trust, Cadw, Eryri National Park and Disability Arts Cymru.
Dafydd Pesic-Smith, Llandudno Manager, Penderyn Distillery.