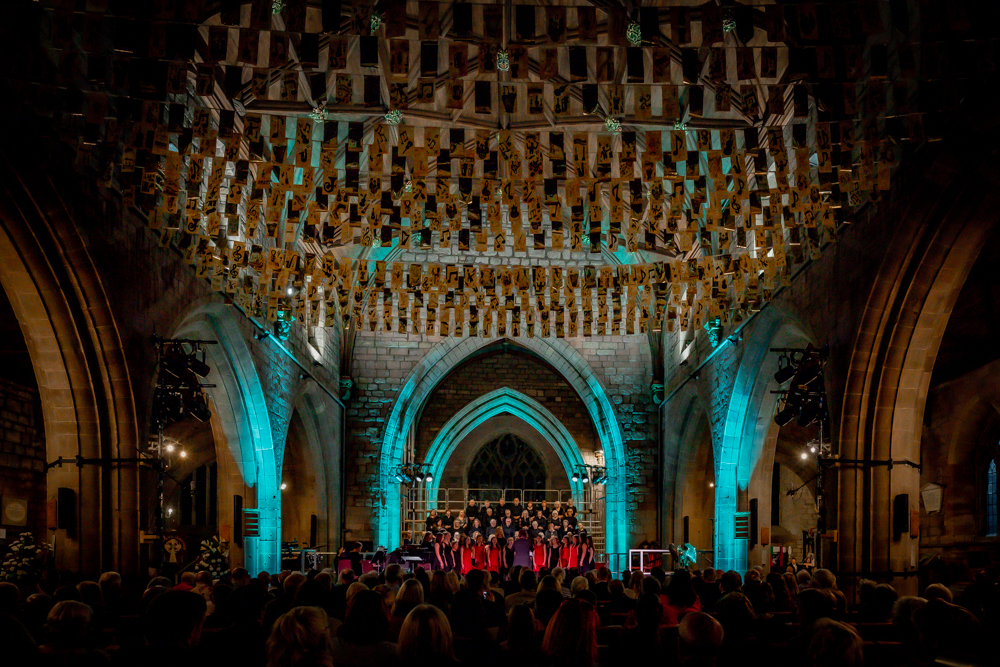 Jones Bros Civil Engineering UK & North Wales International Music Festival
The Challenge
To demonstrate corporate social responsibility in North Wales.
To support and cultivate the appreciation and enjoyment of live performances to as wide as possible a cross-section of the community in North Wales.
To provide an opportunity to give young and talented performers the chance to perform live.
The Solution
As part of the North Wales International's 50th Anniversary celebration, Jones Bros' sponsored the commission on a new bilingual Community Opera, Gelert. The business' support also enabled two performances of this 45-minute one act opera, retelling the folktale of Prince Llywelyn and his faithful dog Gelert.
NEW Voices community chorus, whose members live in communities across North Wales, embodied the voice of the townspeople and the wolf.
Ruthin based children's choir Côr Cytgan Clwyd and Flintshire Youth Choir represented the voice of Gelert. They were accompanied by NEW Sinfonia musicians and local soloists.
CultureStep funded matinee and evening performances of the Gelert, as well as BSL interpretation at two performances.
The Results
The project reached a vast array of the local community demographic and all involved were fully immersed in the 50th Anniversary celebrations. The opera reached an audience of 500 and engaged 135 performers drawn from the local community.
All project participants benefitted from a boost in emotional and mental well-being and a sense of achievement, confidence and pride as a result of being part of such a celebratory community project.
This inclusive project enabled Jones Bros to have a positive impact on the local community. The festival benefited by strengthening its engagement with people across North Wales, enhancing its reputation and reaching new audiences.
The Endorsement
As a company, we endeavour to provide a lasting legacy in the communities near our work sites, and in this instance, we are very proud to be named as a co-commissioner of the Community Opera 'Gelert', which has been published by Novello & Co Ltd, and will be accessible for many to enjoy in the future, both as performers and audience members. Jones Bros would be delighted to work with NWIMF again and will be keeping in touch to support the event in the future. As a company, we relish the opportunity to support local projects when and where possible. The opportunities the music festival provides align closely to what we at Jones Bros look to do in terms of getting young people involved and making a positive impact on the local community through a variety of sectors, including arts and leisure.
Lynne Williams, Jones Bros Civil Engineering UK.
It has been a tremendously worthwhile experience working together to develop this partnership and realise the importance Jones Bros places upon the involvement of the younger generation in the arts, as well as inclusive projects that reach out into the community. Our project partnership shows great forethought, innovation, and commitment. NWIMF truly values Jones Bros support towards our 50th anniversary year and we would love to continue our partnership towards inclusive community work. Community projects and youth engagement are both fundamental to our development for the future. Therefore, as we look forward, we will be planning and developing further projects which give such wonderful opportunities for engagement and involvement for the many. Gelert was such a special project to celebrate our milestone anniversary with the local communities of North Wales.
Caroline Thomas, North Wales International Music Festival