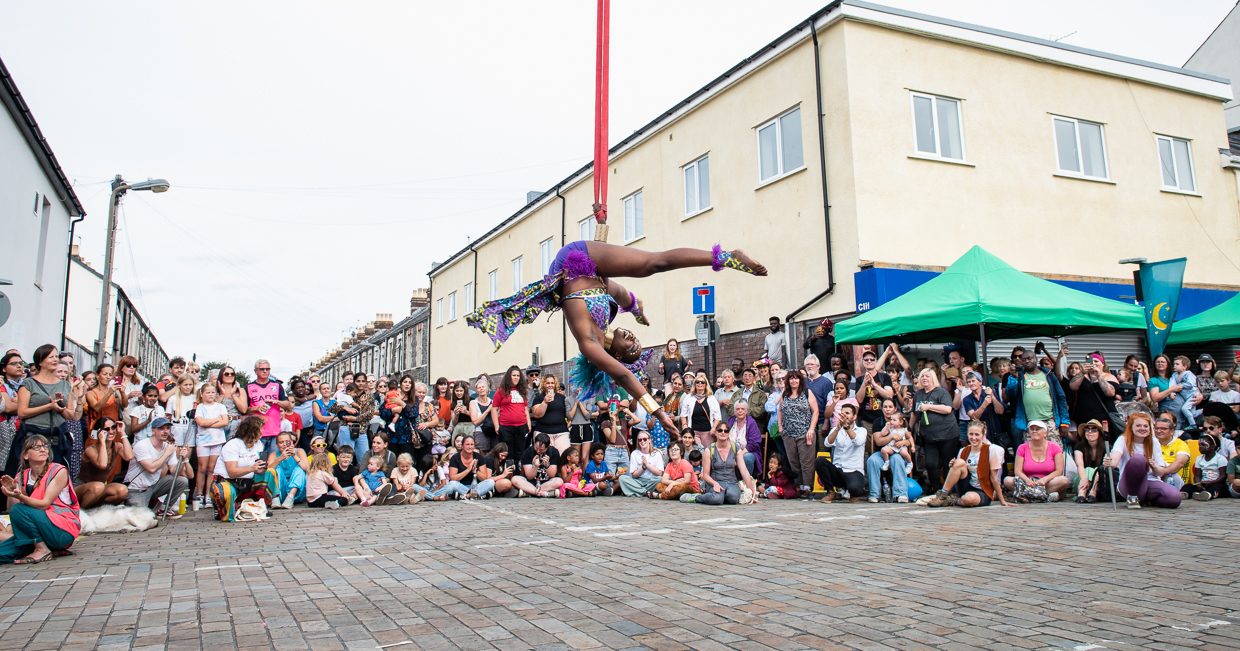 Cardiff Community Housing Association (CCHA) & NoFit State Circus (NFS)
The Challenge
To improve cultural and social provisions within a deprived area
To provide free, inclusive and accessible cultural activities for CCHA tenants and local residents
To increase community cohesion and engagement
To cement a partnership with the view of long-term collaboration
The Solution
A newly formed partnership in 2022, the housing association teamed up with NoFit State to deliver the Clifton Street Festival, a celebration of the community of Adamsdown. NFS delivered a day of workshops, performances, music and a parade, which drew an audience of 2,000 people.
CultureStep extended this new partnership by funding 16 community circus classes over 20 weeks.
The Results
The circus classes were co-designed with the local community, providing fun, accessible activities for all age groups in the area. Other events and workshops were also planned, including a celebration of light, Park Light, an outdoor open access event.
In total, the CultureStep project engaged 306 individuals from the local area, 56 of those being CCHA tenants.
Both partners are committed to long-term collaboration to harness the benefits of arts engagement, enhance the local area, improve community cohesion and enrich the lives of local residents.
The Endorsement
The project has helped build CCHA's reputation among our community, stakeholders and delivering against our promises. The free creative circus sessions for tenants offered meaningful local activities, and demonstrated that we truly value them and are committed to building a better future for our residents. It has enhanced our image and built trust with people we work with. With relatively modest financial investment, this has ensured excellent value for money activities we would not have been able to offer on our own.
Through partnering with NFS, we have been able to tap into a wider network of local community partners, promoting our services to a more diverse group of people and adding new clients to our customer base. Our collaboration has resulted in improved awareness of provisions available for both our staff and tenants, including NFS classes and events, as well as activities by partner organisations, such as Green Squirrel and Oasis.
We have greatly improved our experience in working with an arts organisation, helping us to think differently and creatively regarding our own strategic approaches. Our collaboration delivers against our aim to enrich people's lives and transform neighbourhoods into spaces where people want to live, work and thrive.
Sue Anscombe, Communities and Regeneration Manager, CCHA
We have widened our engagement and reached new people and communities by working in partnership with CCHA. This project helped to deepen our partnership and we now regularly work together, including on other projects such as our new Square Mile multi-partner community development project. CCHA has become a highly valued and reliable partner and a go-to collaborator to help with signposting, promotion and networking for our activities. We benefit from their deep knowledge of local neighbourhoods and communities through CCHA's Neighbourhood Managers.
We are now also better known in the local area as an arts organisation which has something to offer that is relevant and accessible to local people. Additionally, having gained the support of a business like CCHA, and their support and trust in us, aids our conversations with other corporates and businesses. It is beneficial reputationally, as well as financially and has contributed to persuading additional partners to join our Square Mile project collective.
Elena Schmitz, Development Manager, NoFit State Circus